6000 Liters Aluminium Fuel Tanker
The structure of the Tank-Type Semi-Trailer carrying part is a tank-type semi-trailer. It is mainly used to transport liquids, bulk materials and Bulk Cement. 1. The tank truck series is divided into Oil Fuel Tank Truck, concrete mixer truck, powder material and bulk cement truck, water supply truck, etc. 2. The tank body is manufactured through three-dimensional design and advanced processing technology. The chassis adopts special chassis of various manufacturers, with advanced technology and reliable performance. Fuel Tanker with canned container. Advantages: high loading and unloading transportation efficiency. Guarantee the quality of goods. Conducive to transportation safety. Reduce labor intensity and improve loading and unloading conditions. Save packaging materials and labor. Reduce transportation costs. Liquid tank cars: Ship fuel, lubricants, acids, alkalis, water, food and beverages. Powder tank cars: ship cement, flour, stone powder, etc. Gas tank cars: transporting nitrogen, argon, petroleum gas, etc., granular tank cars: transporting grain, beans, granular plastics and Other granular items. Other special tank trucks: concrete mixer truck, sprinkler truck, sweeper truck, etc. According to the use pressure in the container, the tank truck is divided into: low pressure Tank Truck (the internal pressure of the tank body is generally below 0.09Mpa. It is mainly filled with water, light fuel, etc.) medium pressure tank truck (the internal pressure of the tank body is generally 0.147-0.294Mpa . Mainly installed caustic soda, asphalt, etc.) high-pressure tank truck (the internal pressure of the tank body is generally 1.177-3.532Mpa).
Located in Liangshan County--the largest trailer base in China, Changhong has 20 senior engineers and 800 experienced employees, covering 72968 square meters.Our main products are New and Used Dump truck, New and Used Tractor Truck, Bulk Cement Tank Trailer, Front Loading Lowbed Trailer, Low Bed Trailer, Dumper Semi Trailer, Flatbed Semi Trailer, Full Tank Semi Trailer, Container Semi Trailer, Cargo Semi Trailer, Full Trailer, Excavator, Wheel Loader, Road Roller and Paver, Bulldozer.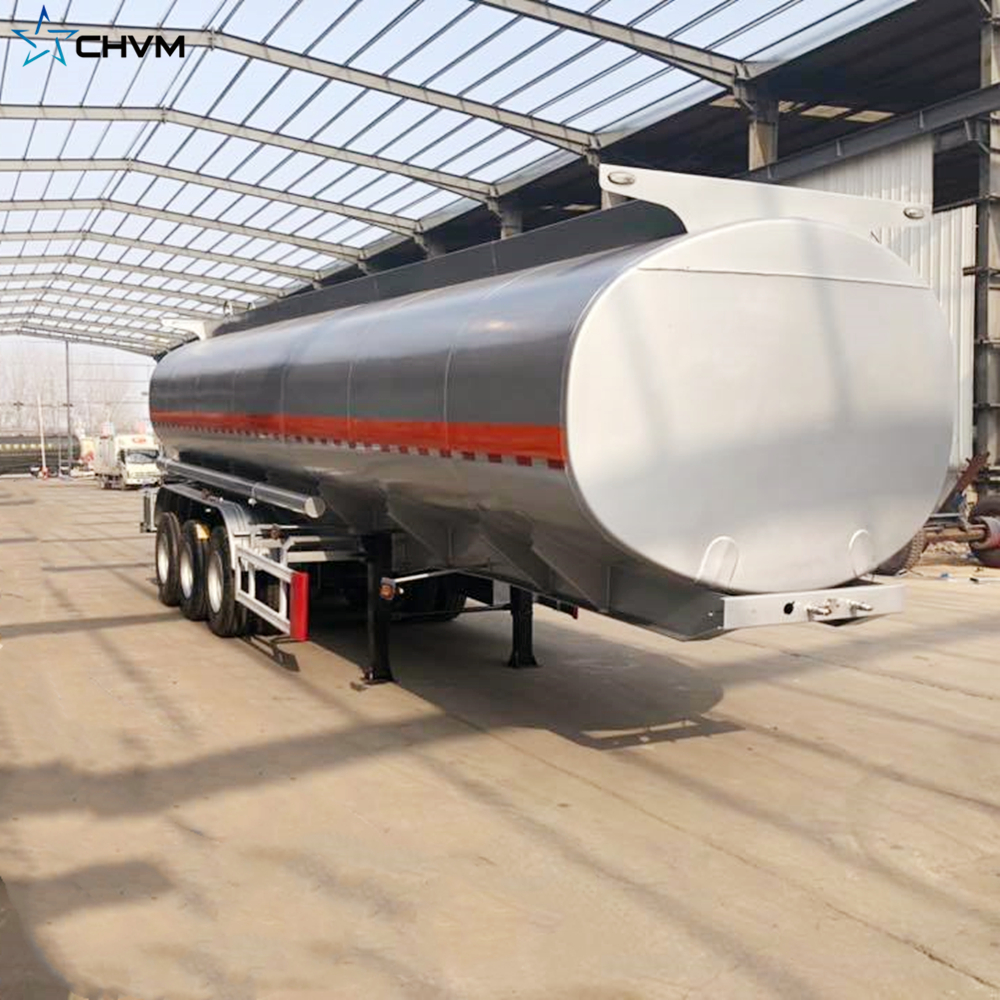 Parameter:
| | |
| --- | --- |
| Overall Dimension | 10500(L)*2500(W)*4000(H)mm |
| Tare Weight | 9.5T |
| Pay Load | 60T |
| Loading Volume | 60CBM |
| Suspension | Mechanical Suspension with 10-layers leaf spring |
| Tanker thickness | 4mm |
| Dish head | 5mm |
| Floor | Floor Plate Thickness--2.0mm |
| King Pin | 2"(50mm)or3.5"(90mm) |
| Landing Gear | Heavy Duty 28ton*2 |
| Tyre | 12R22.5 |
| Axies | 3*13T |
| Air compressor | Bohai 12 cubic double cylinder |
| Diesel engine | Weichai 4102 |
| Light | Tail lamp with turn signal,brake light & reflector,side lamp etc |
| Tool Box | 1pc tool kit box made of stainless steel |
| Hydraulic Jack | 50Tons*1pc |
| Tire Spanner | 1pc |
| Painting | Primer Coating, Top Painting, Wax Polishing |
| Color | Any color |
Liangshan Changhong Special Purpose Vehicle Manufacturing Co.,Ltd. , as a trailer manufacturer,has been dedicated to provide our customers with high-qualified trailers and additional values since 2007.
Customized production is also workable thanks to our R&D Center. Advanced automatic production and testing equipment ensures unmatchable quality in products. High-strength steel from Chinese national steel company and submerged-arc welding technology ensure the trailer suitable for different road conditions with higher load. After years of development, Changhong has obtained high reputation and market share in both China and abroad. In addition, our products had passed I S O 9 0 0 1 and 3 C State Certificate.
Enjoyed high reputation in China, our products are also exported to countries and regions such as Africa, Vietnam, Australia, Pakistan, Mongolia, etc. Both OEM and ODM orders are available; our goal is to provide our customers with the best value in trailers. We take the pride in the fact that we can produce a quality trailer at competitive prices.
Welcome friends from all over the world to Liangshan Changhong Special Purpose Vehicle Manufacturing Co.,Ltd. for visiting and cooperation.
Main Beam
T700/Q345, high strength carbon steel from largest steel company in China
Welding
Submerged Arc Welding, full automatic technology
Axle
Famous brand in China, strong out-sourcing
Painting
Sand balsting, prime coating, surface painting,color opitional, wax polishing
Experience
Fully experienced R&D Dept. and workers since 2007